Choose your visit
The Cave of Trabuc invites you to discover a mineral paradise, authentic and preserved. Discover 5 ways to visit.

Buy your tickets
To visit the Cave, you can buy your ticket on our website, or directly the day of the visit at the ticket office.

Getting to the cave
The Cave of Trabuc is located near Anduze (10min), Alès (20min) and Nîmes (50min). The site overlooks the small village of Mialet, in the heart of the Cévennes.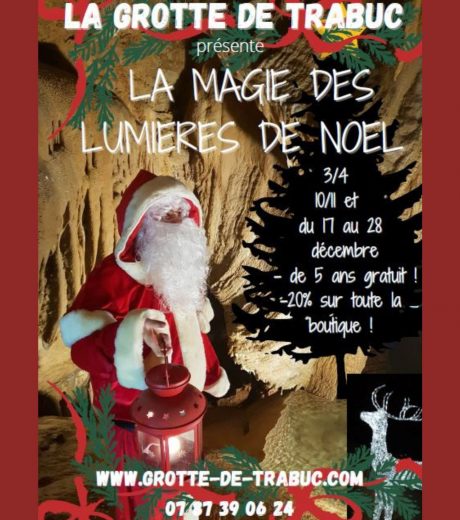 EVENT
The magic of Christmas lights
A dream that comes true on  the weekends of 3/4 and 10/11, and from  December 17 to 28, 2022 (except the 25th). The Cave of Trabruc transform into Santa Claus's caves, with its "polar" corridors, its mineral landscape decorated by  festive lights and its starry vaults… A warm and magical moment !
More